Instagram is a great social media platform for real estate—with plenty of opportunities to make followers ogle at property photos, fall in love with listings through innovative IG stories and get a sneak peek into your day-to-day business through IGTV.
So, why are only 39 percent of agents regularly using the platform?

According to Chris Smith, co-founder of real estate-focused digital marketing firm Curaytor, Instagram mystifies most agents who are used to the rules and etiquette of other platforms, such as Facebook and Twitter. Smith says they fail to realize that Instagram thrives on visuals and storytelling, not one-off statuses or links.
"Instagram is sort of becoming the internet," he said. "At a recent conference, someone said, 'Facebook is Google, and Instagram is Google Images.' That's the new internet, and that's where people start now."
Smith sat down with Inman and shared the five most common mistakes agents make on Instagram and how they can fix them.
Mistake No. 1: Using shortened links in your biography bar
Smith says linked posts are the least likely to get engagement on all social media platforms because links pull users away from their timelines and to another site. This is especially true on Instagram since the platform's purpose is to share photos and videos—not links.
"Links are not the preferred thing for social networks," he noted. "These platforms want people to stay on their platforms, and they have to strike a balance between keeping traffic on their site and making it profitable for advertisers and marketers to use their site."
Smith says agents are used to pushing links to listings and websites, which makes Instagram difficult to use since there are only two places for this kind of information: in the biography section or in Instagram Stories.
Placing links in the biography bar isn't particularly effective, especially if you're posting a link to a single website or listing. Furthermore, it's difficult to call attention to that link without taking a hit to your engagement. Smith says Instagram has recently been "squashing" the reach of posts "Link in bio or #linkinbio" in the captions.
But, Instagram has "created an environment where marketing people are trying to come up with workarounds" to turn a place that's not really about links into a place about links, he said.
Smith suggests agents ditch bit.ly or other link shorteners and look into "Insta-sites" from platforms such as linktr.ee, Buffer and Milkshake. With these Insta-sites, agents can share multiple links to their brokerage website, their blog, their other social media accounts and specific listings all through a single, customizable link.
"You can also have all of your other stuff that's important there, and you never have to change the settings on Instagram," he said of flash websites. "You change the settings within those tools."
Although flash websites are effective, Smith said the best place to get engagement for links is Instagram Stories. Currently, IG Stories' swipe-up link feature is only free for accounts with more than 10,000 followers, but agents with smaller audiences can take advantage of the feature by paying for it.
"When you do [have the follower count] and do it right, it does work great because that's part of [Instagram's] culture," he said. "'Swipe up to see this' is very normal. So that is where you're going to get more of your link clicks."
Mistake No. 2: Using Instagram Stories like a tweet or Facebook post
Smith says many agents are using the Instagram Stories feature, but they fail to get engagement because they're using the feature like a "tweet or a Facebook post" where they can share individual photos or videos that don't necessarily connect.
"Where most people screw up is [thinking] a bunch of individual stories make a story," he said. "Part of the reason people click through is that there's no logic or thoughtfulness in what they're sharing."
"So, if you actually tell a story the way stories work—where they're multilayered, and they have heroes and villains, and beginnings and endings, people will pay attention," he added.
Instead, agents must build up to their request, whether it's swiping up to click a link, leaving a reply or sharing the story with their audience. If agents make a request within the first post, Smith said they're likely to receive a click rate of 5-10 percent.
"But if we build up to that request, and we have a story and another story, and then say, 'Swipe Up,' we might get up to 30-40 percent of the people to do it," he said.
"Gary Vee [Gary Vaynerchuk] has a very popular book that's called, 'Jab, Jab, Jab, Right Hook.' What most people are doing is just a right hook, and they're not setting it up with a jab, jab, jab, then 'boom' [with a] swipe up."
Mistake No. 3: Blaming the algorithm for low engagement
Social media platforms are consistently updating their algorithms, so it can be easy to blame the algorithm for wavering metrics. But, Smith says the algorithm isn't that hard to figure out if you test it with consistent and quality posts.
"The No. 1 way to get more engagement is to quit posting stuff that sucks," he said. "You'll find out that the message is the only thing that truly matters."
"It's a 50/50 algorithm. Fifty percent of your engagement comes within the first hour. The other 50 percent comes within the next 23 and a half, and the rest never comes," said Smith.
The testing process doesn't require complicated equations, Smith said. It only requires agents to determine the average number of likes a post gets, and then pay attention when a post falls below or surpasses that average. Then, agents simply need to post more of what their audience likes.
"The difference between the stuff I post that gets 800 to 1,000 likes and the stuff that gets 80 to 100 likes, it has nothing to do with the algorithm," Smith explained. "It has to do with me understanding my audience and what they want me to post. People are the ones who are voting, not the algorithm."
The struggle for agents comes in the fact that what their audience likes might not be what they want to share. An agent might want to curate a feed of enviable listing photos, but his or her audience likes impromptu behind-the-scenes videos of their day-to-day business. That's when agents have to decide what's more important—doing what they want or doing what their followers want.
"If they like listing photos, post more listing photos," he said. "If they like to see you, post more videos and pictures of you."
Lastly, Smith says agents need to understand that posts on Instagram have a shorter shelf life than posts on Facebook or Twitter. You're more likely to receive engagement on a year-old Facebook post than you are on a year-old Instagram post.
"It's a 50/50 algorithm. Fifty percent of your engagement comes within the first hour," he explained. "The other 50 percent comes within the next 23 and a half, and the rest never comes."
Mistake No. 4: Abusing hashtags and likes to grow your follower count
Using hashtags and likes can be an effective way to get new followers, but Smith said most agents are abusing these two features.
"It just feels like you're desperate to get reach, and yeah, there is a chance you'll use a hashtag that'll put you into the awareness of people who aren't aware of you yet," he said. "But it is one of the least effective strategies, and it just looks spammy."
Instead of using general hashtags such as #homesforsale or #(insert your city)realtor, Smith says you need to get hyperlocal with your tags, and choose two or three that will get you in front of the specific audience you want to serve.
"It's like Google—you ain't gonna rank for 'homes for sale,' and you aren't going to rank for those other important words. Those hashtags are a total waste of your time," Smith added.
"But the hyperlocal ones will work. You might actually get the right followers from that," he said. "But there's not a magical hashtag that will suddenly blow up your business."
In addition to hashtags, Smith said agents need to use the "add location" option for posts and stories—you're likely to double your engagement.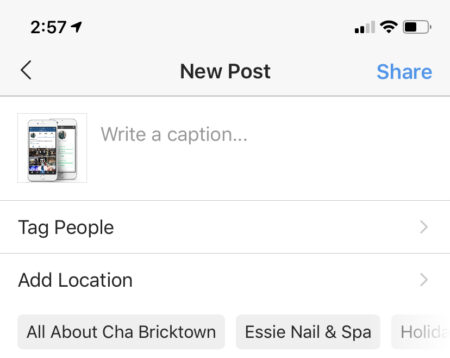 When it comes to liking posts to get new followers, agents must tread lightly—Instagram has a "like and follow cap" of 90 per day. Any more than that and you could have your account temporarily locked for spamming others' feeds.
"The reason they lock down an account if they like too many photos is because it's one of the best ways to get followers," Smith explained. "By following someone, it sends an alert that you did. If you like two pictures and follow someone, there's now three notifications in their feed."
Mistake No. 5: Forcing yourself to be on Instagram
Smith recognizes that many agents are stretched thin with running websites, blogs, multiple social media accounts and other tech platforms used to manage clients and transactions.
"There's only so many hours in a day, and over the last five to 10 years [agents have] had to do email marketing, and now they're trying to be bloggers, and now they're using Facebook, and they're on Twitter, and they're on LinkedIn," he said.
With that fact in mind, Smith said some agents might not need to be on Instagram, either because they don't have the time to spend on the platform to get true results or because their audience isn't on the platform.
If you find yourself in the first category but really want to dig into the platform, Smith said agents should hire an individual social media manager or reach out to a social media management company such as Lumentus Social, Falcon.io or Curaytor for help, if their budget allows for it.
These managers and companies take on the grunt work of creating posts, editing videos and developing a content calendar, which makes it easier to build consistency, engagement and success on Instagram.
If you've done all you can to find Instagram success and it's still not working, the issue might be that your core demographic isn't on the platform. Instagram's primary user base is millennials (1980-1998), and if you're looking to serve older buyers, Facebook might need to remain your primary focus.
"When your audience is not an Instagram audience, it doesn't matter what you do on there anyway," he said.